6 Comments
9 Ways to Access Blocked Facebook and other Websites
Tuan Do | Updated On
Blocking sites is common, be it at offices or be it at school and colleges, there are certain sites which the authorities do not want you to visit and hence they are blocked. From social networking sites like Facebook, Twitter to blogs, you might find a number of such sites blocked at places you work or study.
Fortunately there are a number of ways through which you may after all be able to browse these sites even after they are blocked. Eight such ways to access blocked Facebook and other websites are described below. These will surely help you to access any blocked site you want at your workplace or at your college.
1. Use VPN or Proxy Servers
Using VPN (Virtual Private Network) or proxy server is the guaranteed way to connect to blocked websites. This is not only the most popular but also the most secure method because they provide anonymity and security online.
They can easily bypass any network restrictions and allow you to browse anonymously. The chances of being traced back are zero due to the encrypted connections which support in preventing monitoring on the network used by you.
All you have to do is just installing the VPN program or proxy server, then you can enter URL and surf the web without any restrictions. The VPN service I recommend you is PrivateInternetAccess, they still have no competition in protecting your identity as well as unblocking censorship filters. You even can enjoy any restricted access when you go abroad, such as streaming Hulu, iPlayer by BBC, Demand5, Facebook, Youtube, P2P and more. I have a yearly subscription for this service and just need to pay around $3 per month. The price is $6 if you pay monthly.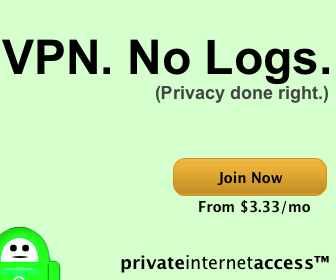 Check out my review on Private Internet Access if you are interested in the service.
2. Use alternate DNS resolution service
For some countries blocking Facebook in Asia like Vietnam or China, you probably just need to use Google Public DNS to bypass the restriction. Follow the simple steps:
Go to Properties in Local Area Connection (for Ethernet) or Wireless Network Connection (for Wifi) to change the settings.
Go to Networking tab and click Internet Protocol Version 4 (TCP/IPv4) under This connection uses the following items, then choose Properties.
Click Advanced and select the DNS tab, then OK.
Select Use the following DNS server addresses.
Replace the addresses here with the IP addresses of Google DNS servers, which are 8.8.8.8 and 8.8.4.4.
Restart the connection and done.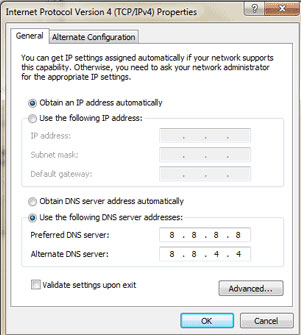 3. Using Short URLs
At times, using short URLs to access the blocked site may do the job. It is certainly possible that the short URL you enter will not be blocked as well hence you may easily visit the site you are willing to surf. This is a very easy method but it is also possible that you may be redirect back to domain you wanted to access. In that case, this method will not work.
4. The blocked site can also be received through emails
Services such as Web2Mail lite allow you to surf the page you want via your email account.  All you have to do is send email to the following [email protected] to request to be able to access the blocked site you are willing to browse. The response to your mail will come in no time. Just remember to send in URL address of the web page you would like to surf as the 'subject' of the email you will be sending.
5. IP can be used in place of URL
This method's success depends on the software which is being used. At times, only the URL of a blocked site is used for blocking that site and if you use the IP you might be able to access that site.
6. RSS feeds can be of use
Now if the blocked site you are willing to access has the provision of RSS feeds, you may use a RSS reader to subscribe to these feeds and read them. You can also choose to receive the contents via email. Easy and simple, this method can help you access sites but only the ones with the provision of RSS feeds.
7. View the site in form of a PDF file
Another solution through which you can view a blocked site is using PDFmyURL. This way you can view the site in the form of a PDF file. You will be downloading the document in no time after your enter the site's URL. Also, by adding the bookmartlet to the browser bookmarks, you may change any page you want to browse to PDF file easily and quickly. This is a very basic and very useful method.
8. Wayback Machine – your way to the blocked sites
Wayback machine is a service which keeps a record of all the sites in the internet from when they are started. Now if you open the latest copy of the blocked site you want to browse through Wayback machine, you will be able to browse the site which will be almost like the real site.
9. Use Translation Services to view Blocked sites
Translation services available online enable you to translate the sites from a language to another language and then the results are displayed on their own web page. All you need is to enter the blocked site's URL and retranslate it and then the translation service will bring you the content. Google translate and Alta Vista Babelfish is such sites. This is among the easiest way which will surely help you visit any blocked site you are willing to surf.
There are so many methods available for visiting blocked sites and you are sure to find them useful. Now, blocked or not, you will be able to surf any site you want at your workplace or at your college. These methods are easy and will work for sure.