37 Comments
How to Set Custom Short URL for Google Plus Page
Tuan Do | Updated On
After a long time anticipating, Google Plus is finally open for business as it allows creating Google Plus Page. The new feature is very similar to Facebook Fan Page and someone even called it the Google's version of Facebook Page. This is an important move of Google Plus as the social network was open for individuals only and said no to anonymity and brands. Now all companies, celebrities or sport teams can create their own Google+ Pages at http://plus.google.com/pages/create.
The change absolutely can bring more new users and increase the number of Google Plus Profiles to more than the current number of 40 millions. Google+ has some advantages over Facebook, for example, the comprehensive collection of free services like Search, Gmail, Documents, etc, could help them easily promote and tie the network to those services. However, there is an important feature that is not available on Google Plus yet, that is the option to change Google Plus Page name. It is really not comfortable to promote your Google+ Page with a difficult-to-remember long numerical string. Here is the URL to TechWalls' Page:
Update: Google is launching Google+ Direct Connect that users can use the "+" symbol before a brand name to go directly to a Google+ page in search. Custom URLs are still under development and Google says that they probably will charge monthly fee for the URLs. Here is how you can get the custom URLs for your Google Plus page:
1. Go to your Google Plus Page -> Get Started
2. You will see the section "Connect your website", click on "Get the badge" and install a badge on your website. Just by adding the snippet of code to your site, you will help understand your page's popularity and relevancy.

3. Add link to your website on Google Plus page.
4. Wait for Google to approve and roll out custom URLs for your website.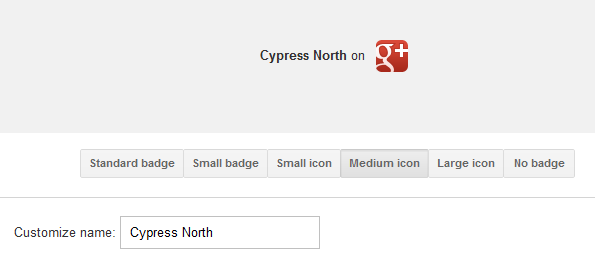 In case your page hasn't been approved for a vanity URL as Google Plus hasn't made it widely available yet (it is even not available for Google+ individual accounts), you need to use an unofficial tool to shorten the URL like we set custom URL for Google+ Individual Profiles.
Here are the steps:
1. Create your Google Plus Page
2. Go to your Page and get the Page ID on the address bar. For example, my page's ID is 100456744122229823295.
3. Go to Gplus.to.
4. Fill in your desired Page name and the ID below, then click on the button Add.
5. Your Page URL is generated now and you will get one like this:
I will update the post as soon as there is an official or better solution. Let me know if you have another way to set custom URL for your Google Plus Page.